BLITAR TOUR
Blitar is a small town 80 Km from malang. some visitor from jogyakarta can took the train for visit this " modern traditional city ". well known as the city of soekarno. local people from all over indonesia like to visit this city for soekarno grave and soekarno house. we offer 2 tour program for explore this city.
* andong tour : starting in the moning visit to soekarno museum with andong ( 30 minute drive) walking around the complex of soekarno tomb yard including museum of soekarno and soekarno library, soekarno house etc. If time allow we can ask to the guest for visit star fruit agro tourism.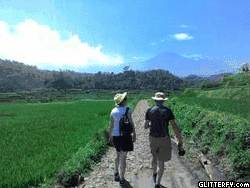 * treking tour : 08.00 or after break fast, start from hotel and drive to the village ( more and less 20 KM from blitar city center. Fell free for stop on the way to make a picture of rice field terrace. Car only possible to drop near kepuh temple ( Hindus temple, 1000 mtr asl.) this is new temple, donation from balinesse community, because more hindus then moslem on this area. Many story about communism ( PKI ) surrounding this temple , trekking trip starting from this temple, route for trekking is 70% down hill, 10% flat and 20 % up hill. Rice field, coffe,vegetable and fruit plantation easy to find along the route. Trekking trip ended near arga sunya temple complex , where our car already waiting for lunch.
After lunch break, drive to kelud mountain, on the way stop for tea plantation ( short walking only ) penataran temple and pineapple plantation.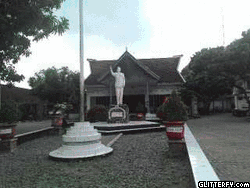 Our trip on mount kelud with a car will be ended 3 KM before the peak, ( parking area) and we continued with ojeg ( motor cycle taxi). Just inform, caldera area still under reconstruction after big eruption at 2006. Perhaps in next few mount the project will be finished. From peak area ( puncak semar) we still possible to enjoy beautiful sunset.