MALANG CITY TOUR BY WALK AND PUBLIC TRANSPORT
Malang well known as the city with a lot of colonial building, infrastruktur of
this city build by dutch goverment, very beautiful city with many big trees
surrounding, we offer you to enjoy our clean and green city with many
story of colonial house and also look deep inside the city of Malang,
the real life of local people. some point perhaps not really nice to
see, but that is the real of life.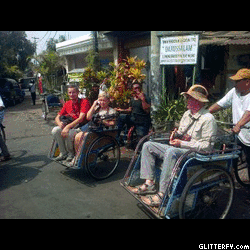 Start from hotel after breakfast with " mikrolet" /public transport to malang
city hall area, walking inside city hall building ( colonial style building ), bird
market , labirinth river kampong ( kampong brantas), 3 D kampong (
colouring kampong), second hand market and urban kampong ( railway
area ). Trekking trip finished in eng ang kiong CHINESSE temple (
KLENTHENG/BUDHIST TEMPLE )
just After exploring chinesse temple complex, Becak already waiting for
next journey to traditional market of malang, we please our guest for
walking inside to see real life of local people. Many color of vegetable, fruit
andtraditional cake, " good " smell as well.
next trip to the city center of malang for coffe break in toko oen (hollands
restaurant). and then continued to colonial area of malang " ijen boulevard"
with local public transport.
droop to your hotel, end of the trip